I started watching the TV show, The New Girl at the prodding of my sister. She insisted that I will like it. Learning a few minutes later from a search in IMDB that Zooey Deschanel stars in it, I didn't need anymore convincing. It's fun to watch Zooey on-screen. She's quirky and goofy and still charming at the same time. It's no wonder that many of my guy friends have a crush on her.

I love the colorful fashion on the show and I also love the characters. I also love the apartment in which Jess shares with 3 male companions. I love how they loved to make it lived in. Take a look at some of these photos. [Photo source/credits: Denise Crew for The Daily]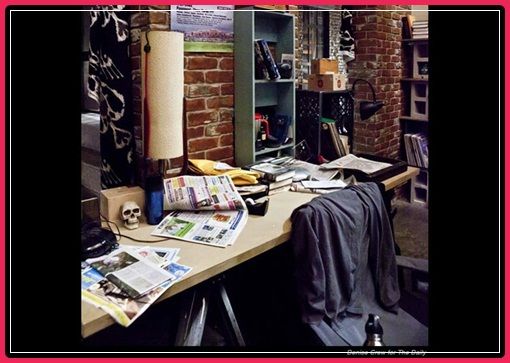 If this desk was any cleaner, I would love writing posts in it.

The Living Area has a very nice open feel to it, with a mix of rustic and modern furniture. It's very masculine in style since the occupants have mostly been male.



While the rest of the apartment remains masculine in style, Jess' room is a haven of femininity. To reflect Jess' style, there's an assortment of florals and flower illustrations that while unusual, seem to blend in together amidst a cornblue background.