A few days ago, I just got around to watching the movie
What's Your Number
. It's such a fun fun movie that kept me laughing so much. It was great although I felt that the ending was a bit rushed. Anyway, this post is not a
movie review
, but I really like Allie's (
Anna Faris
) apartment. Her character's personality is a bit on the artsy side, she's also very much into fashion. You can immediately tell how feminine the apartment is as opposed to Colin's (
Chris Evans
) very masculine one. Unfortunately I couldn't get a clean screenshot of that.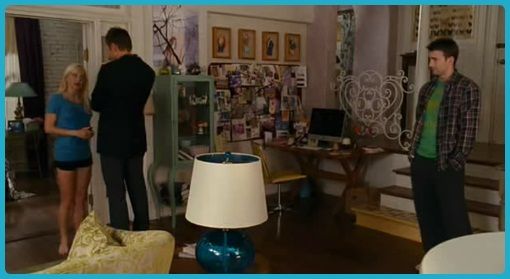 See that
wrought iron
detail at the computer desk? I love that. It's the design also reminiscent of Allie's headboard and footboard. There's also a gallery of art pieces/ clips tacked on a board beside the
computer table
.
Although the bed would have been much better centered on the two windows but I think since the room was too small and they wanted to squeeze in that occasional chair on the side in the shot, this works as well too.
How about you? Seen any movies with great interiors?